September 2022. The French Minister of Health, François Braun, announced that emergency contrace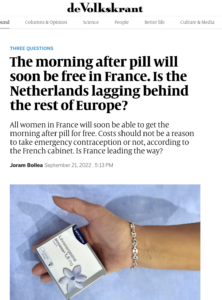 ption pills (ECPs) will be free for all women regardless of their age, in pharmacies and without a prescription. Read more here. ECPs are provided free of cost to women under 18 since 2013; this measure was extended to women up to the age of 25 a while ago, but a prescription was required. This new policy will remove financial and administrative barriers to all women, of any age, and is expected to be implemented in 2023.
The news have triggered discussions in neighboring countries, like in the Netherlands, where past political efforts to reimburse contraception have not succeed. Read more here in English and here in Dutch.