The diversity in EC clinical guidelines lead to inequalities in access to reliable EC options for women in our region.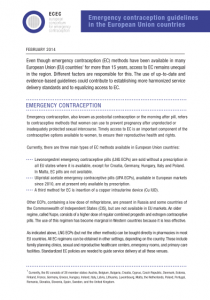 In 2012-2014, ECEC collected information on availability of EC guidelines in European Union (EU) countries. We found that most EU countries had some sort of published document or guide on EC, aside from Austria, Croatia, Ireland, Latvia, and Malta. In eleven countries the guidelines did not include UPA EC. Only eleven out of the 28 EU countries had up-to-date guidelines. Mostly, guidelines had been issued by societies of obstetricians and gynecologists. General practitioners and pharmacists had rarely been involved in the development of guidelines, despite playing an important role in EC counselling and provision. The fact sheet Emergency contraception guidelines in the European Union countries summarises the findings of this assessment.
In 2015, and in particular since UPA EC pills can be bought directly in pharmacies without prescription, a number of countries have issued new guides for health providers and also for pharmacist. Croatia, Italy, Portugal, Romania and Spain are among the countries that developed or updated their guides in 2015. For more information see the Country-by-Country Information page.
In 2013 ECEC developed a template guide to promote the development and/or updating of national EC guidelines in European countries. Click here to download Emergency Contraception: A guideline for service provision in Europe or visit our Publications page.
For additional information on Emergency Contraception: A guideline for service provision in Europe, download this PowerPoint presentation (in English). This presentation can be used to introduce the guidelines template at events or among partners interested in developing or updating national or institutional EC guidelines.
If you have additional information on EC regulations in your country, please email ECEC at cpuig [at] eeirh [dot] org.
Last update: February 2016