April 11, 2018. The European Parliamentary Forum on Population & Development (EPF) launches the Contraception Atlas 2018. In this second edition, the Atlas tracks government policies on a) access to contraceptive methods, b) family planning counselling and c) provision of online information on contraception, in 46 European states.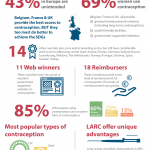 Belgium, France and the United Kingdom rank best of the 46 countries surveyed, mainly due to their general reimbursement schemes which cover a range of contraceptive supplies; their policies to improve access to contraception for young people and vulnerable groups, such as low-income women; and their excellent government supported websites on reproductive health and rights.
The Atlas is an excellent resource to put our respective countries achievements and shortfalls in context, and to build arguments and reasons to demand more and better reproductive health policies and programs. Visit https://www.contraceptioninfo.eu to learn more.
Information is power. ECEC thanks EPF for this critical work.