Catalonia: complaints about access to EC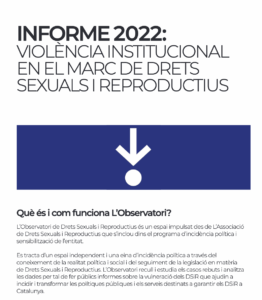 December 2022. In Catalonia (Spain), the Observatory of Sexual and Reproductive Rights monitors violations of sexual and reproductive rights (SRR) reported by citizens, in order to influence and transform public SRR policies and services.
According to the Observatory 2022 report, problems with access to emergency contraception (EC) are the second most common complaint received. Problems to access evidence-based EC information and services have been reported in public healthcare centers (primary care, sexual and reproductive health clinics, and hospitals), as well as in pharmacies, and even on the public health information hotline (061).
Cases include:
denying to provide any EC method;
denying to provide UPA EC pills;
advising not to use EC more than 3 times in a year;
advising not to use EC after abortion;
not receiving information on where to procure EC when a specific service can't provide it;
requesting the assessment of a contraception specialist;
denying EC to women under 16.
The Catalan Health Department has recently updated its guidelines for EC provision in public healthcare units (click here to read more). Furthermore, UPA EC is now offered on the public health network too. These are important steps towards offering a more comprehensive EC service. However, as the Observatory report shows, work is still needed to ensure that up-to-date knowledge on EC provision is the standard across the board.