Spain: Sexual and Reproductive Rights Observatory report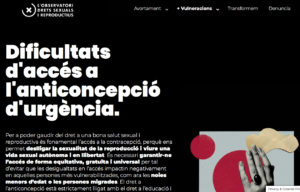 December 2019. The first Sexual and Reproductive Rights Observatory report was launched on December 10th in Barcelona. The Observatory monitors the exercise of sexual and reproductive rights in Catalonia, in order to promote and protect them.
The section on emergency contraception (EC) reports, among others, the case of a 16-year-old women who was denied her right to buy EC pills in a community pharmacy, because of previous use in the past 3 months. She was informed that 6 months need to pass between one EC pill intake and the next. This information is incorrect: previous use of EC is not a contraindication for use.
The report summary (available in English here and in Spanish here) documents the urgent need to create and disseminate an up-to-date and evidence-based guidance on EC dispensation for pharmacy staff in Spain.